Object of study: municipal elections 2021
The CAOS Marketing Digital company carried out a study on the relationship between the metrics that document social media activity and political trends, regarding the upcoming February elections.
El Salvador enters the final stretch of the campaign. Only one month for citizens to elect their mayors.
The study period is centered from December 31 to January 7.
But the data do not clearly express reality. They are analyzed in detail in the following sections.
Presentation of the candidates for Mayor tecleño
Roberto d'Aubuisson, Mayor, since 2015; his current position is disputed with the following candidates.
Henry Flores, from New Ideas.
Wendy Alfaro, from Vamos.
Yeymi Muñoz, from FMLN.
PDC.
CD.
In this poll, 'coincidentally', Bukele's party candidate, Henry Flores, is the winner compared to the rest of the politicians.
From the presidency of El Salvador and Nuevas Ideas know how to use social networks and surveys to 'inform' Salvadorans.
Citizens will be the ones who, on February 28, will vote for the politician who best represents their ideas.
Projection of votes by average of followers in Santa Tecla
The projection of votes, by average of followers, in Santa Tecla has a clear winner: Roberto d'Aubuisson.
He and the rest of the team win, clearly in the municipality. Its percentage (53.7%) far exceeds its opponents. New Ideas (33.6%) and FMLN (9.4%) follow far behind.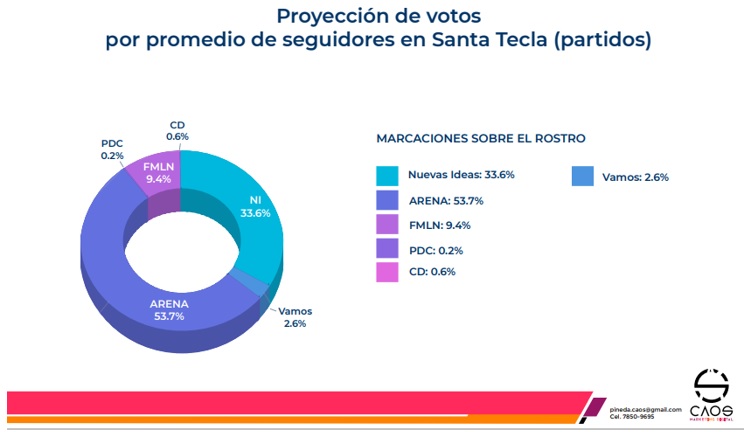 The rest of the parties do not reach 1% of the votes.
With this, the value of Roberto d'Aubuisson, in Santa Tecla, remains on record. His years of work would pay off in his third elections.
Projection of votes for engagement
But, if the average number of followers wins the ARENA party, how can it be that New Ideas and Henry Flores win in engagement? The data does not 'add up'.
In this case, the engagement, per party, is 80.3%, for New Ideas. And ARENA only gets 2.3%.
It doesn't make sense how in one survey you get 53.7% and in the next 2.3%.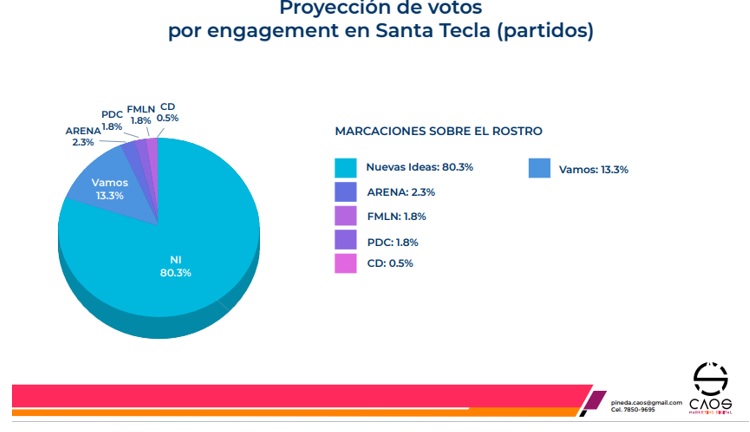 Engagement, by candidate
In this case, Henry Flores wins; in front of Wendy Alfaro, Roberto d'Aubuisson and Yeymi Muñoz.
Data, which do not coincide, either, with the votes, by average of followers.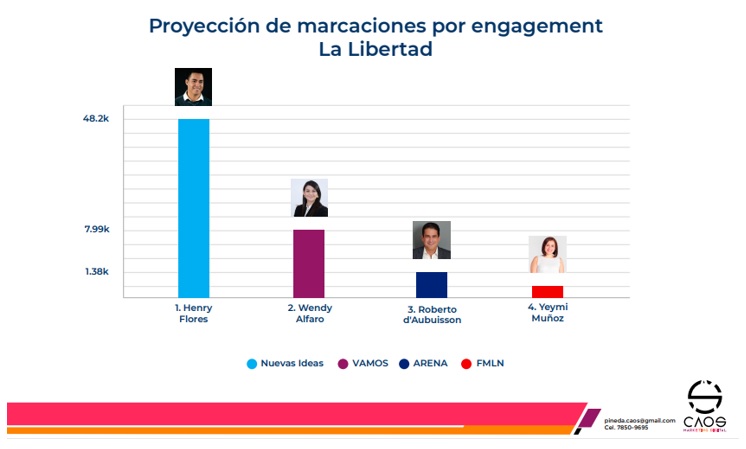 Conclusions: bad data
In this poll, an attempt is being made to explain to voters that Henry Flores is the ideal candidate for Mayor of Santa Tecla. But, then, why do the votes per average of followers give ARENA the winner?
In pre-election polls, the results are always balanced. If a party wins, in a notorious way, it does so in both engagement and votes from followers. There cannot be such a wide difference in results.
And, to finish 'falsifying' these data; They give Henry Flores as the winner of engagement. Like engagement, per game.
These are results that offer a distortion of the truth. An inconvenience for those voters, undecided, until the last minute.